---
Bobo Corporation wins 3 awards at iF Design Awards
---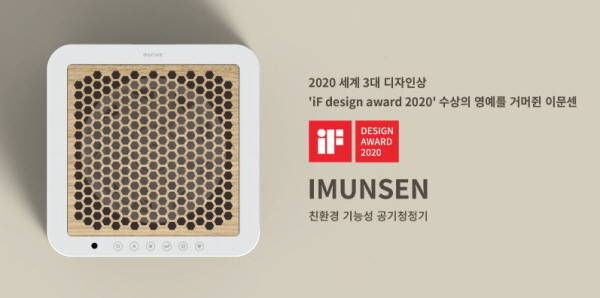 Bobo Corporation announced that it has won the Design Award at the 'German iF Design Award 2020'.
The 'iF Design Award' is one of the world's three major design awards hosted by the German International Forum. This year, 7,298 entries from 56 countries entered the competition. Bobo Corporation's iF Design Award has achieved a total of three awards following past integrated bidet and seat bidet products.
An official from Bobo Corporation said, "The application of the 'world's first cypress wood filter' of the IMUNSEN air purifier stood out in its innovativeness, and the Scandinavian style design in Northern Europe received a large percentage in the aesthetic evaluation. would have taken it."
Next, "The IoT function of the Lee Moonsen air purifier, dual fan/dual motor, H13 HEPA filter, and front, left/right, and bottom are all four inlet ports, including the functional part. I was able to get a big score," he added.
According to the description of
, the standards for choosing an air purifier have been raised by consumers these days as the problem of various viruses as well as fine dust are emerging. It stands out.
Bobo Corporation said, "The era of the first-generation air purifier has passed and the curtain for the next-generation air purifier has risen. The Lee Moon-sen air purifier was also just launched in line with a new trend, and at the same time as now, the 'iF Design Award Award' came as a big support. We will do our best to become an 'IMUNSEN air purifier' that is welcomed not only by domestic consumers but also by consumers around the world."
Meanwhile, Lee Moonsen's air purifier is currently on sale at 26 branches of Lotte Department Store nationwide, and an event is held to present an additional H13 HEPA filter worth 110,000 won to commemorate the achievement of 'iF Design Award 3 crowns'. is in the middle